You might have this question and of course we are here to make your life easier.

Clay can be found in two places, the Falador Dwarfven Mines, and of course the close to home Varrock Southwest Mine.
We encourage you to use the Varrock Mine since it will be the fastest and easiest since the bank is so close to the mine.
1. Start of from the Western Varrock bank. (If your not sure ask someone.)
2. Head out west from the bank, and you will see a fork in the road, take the left one.
3. Keep going down til you see this on ur mini-map.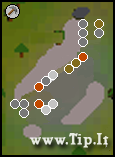 The brown dots are the clay ores.
4. Clay ore should look like this:
Hope this guide helps you guys.